St. Michael's Inc. | Diversity Employer
www.stmichaelsinc.com

We stand behind, so you can take the lead
St. Michael's brings concentrated expertise to back office management, allowing government agencies to focus on what they do best: keeping America safe.
St. Michael's Inc. was founded in 2006, and since then we have gained experience and proven our ability to work with federal agencies to improve their results in business process areas. Our first project was to assist a Defense agency in transitioning from a legacy accounting system to an Enterprise Resource Planning (ERP) system. This project started with one subject matter expert (SME) and a commitment to the client's success. Our ability to provide outstanding resources and create value for the customer allowed St. Michael's to expand the project to several people. We are still supporting that customer today, which is a testament to the value that we create and the level of customer satisfaction we strive to achieve.
We are still a small company, which allows us to provide tailored, specific solutions to meet vital customer requirements. We focus on making our customers successful, and recognize our company exists because we produce results for our clients. As we have grown, we have also added capabilities and contracting vehicles. We are available to be contracted on the GSA Professional Services Schedule (PSS), as well as several agency-specific indefinite delivery/indefinite quantity (ID/IQ) contract vehicles.
We are meeting a vital need for customers: assisting them with realizing a more efficient agency while receiving small business contracting credit. St. Michael's is a Service Disabled Veteran Owned Small Business (SDVOSB) who understands government agencies' culture, challenges, and goals. Our priority is to meet and exceed the requirements of our customers to help them achieve their goals.
The Heart of Success
At St. Michael's we have identified five core values that are at the heart of our success. These five core values act as a compass that directs our actions and guides us towards our goals. Core values help us to inform our clients what we stand for and what to expect from us. Our company's five core values are as follows: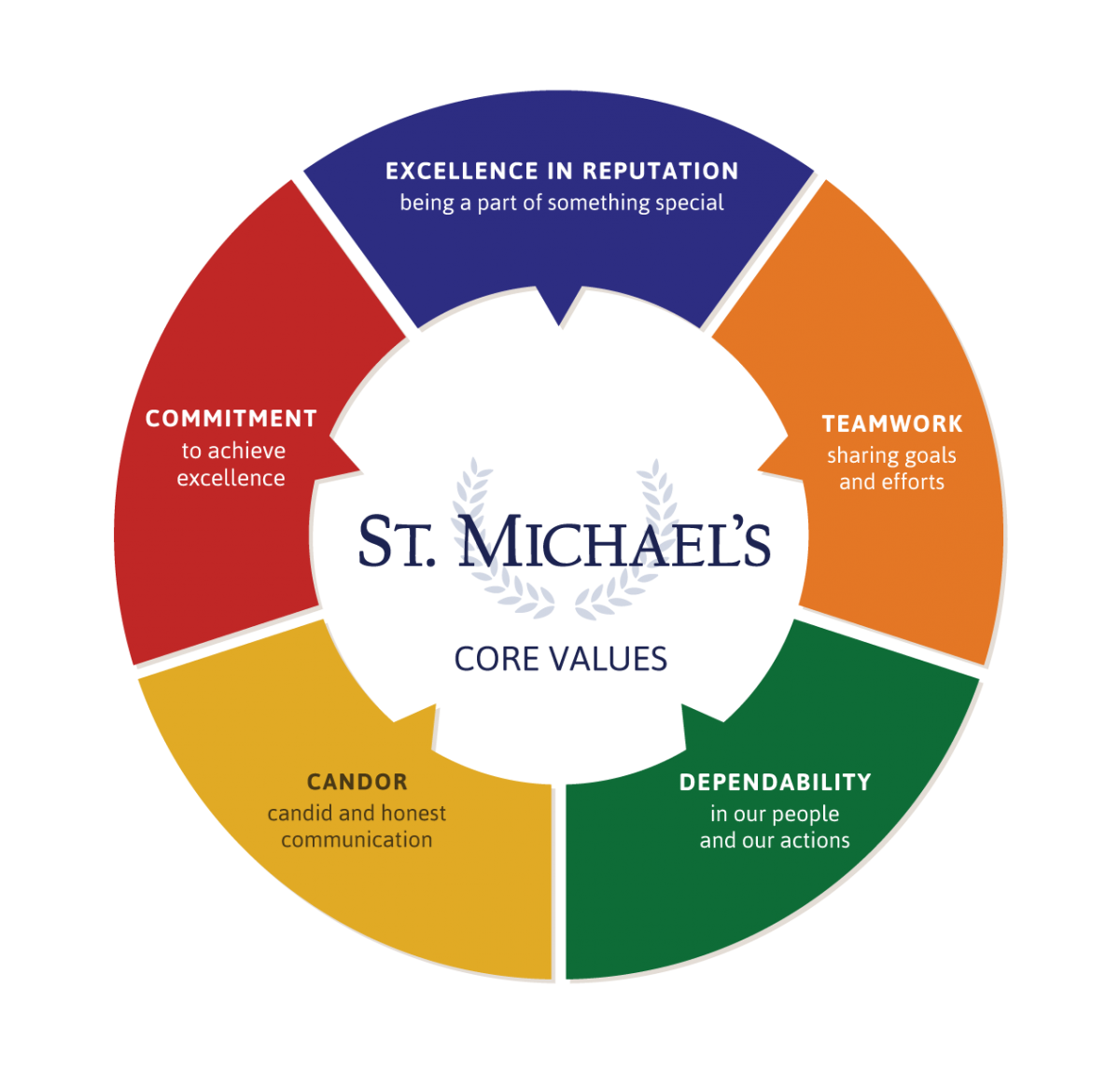 Working at St. Michael's
Good Things Come in Small Packages
Great things come out of St. Michael's Inc. Our workforce brings outstanding service to our clients and our employee-owners reap the rewards of some impressive company benefits. Among these are a competitive salary, two health insurance options that best fit specific needs, paid time off and holidays, company retirement plan with a company match, tuition assistance, long- and short-term disability insurance and much much more! St. Michael's employee-owners regularly interface with company leadership. This not only presents opportunities for future leaders of the company to shine, but it also helps them grow professionally.
Search among St. Michael's Inc. jobs